---
Ready Aim Teach
is committed to helping teachers find purpose and satisfaction in teaching while improving student learning and creating student engagement. Through the trainings and coaching services we provide, teachers are learning actionable practices and strategies to help them:
Keep students focused and engaged through an entire class session
Develop more confident student learners who take an active role in their education
Draw students out and help them engage in class discussion
Eliminate students who just "fly under the radar" by turning them into active participants
Create students who know what is expected of them and how to achieve their goals
If students or your school are struggling to make these leaps, seek to invest in your teachers. Provide them with training and support that will empower them and help them face the challenges of modern-day learners. We offer a proven mix of tried-and-true strategies with current research-based best practices to hone in on the target areas and offer real solutions teachers can implement immediately.
Do you have teachers who have lost their passion or struggle to manage their class?
Professional Development Training
The foundational service of Ready Aim Teach is our professional development trainings – either as a pre-designed workshop or a customized training to fit the exact needs of your teachers, school, or district. We can host the trainings during your pre-service week or as mid-year trainings to boost teacher education.
Throughout our five years in business, administrators and teachers alike have commented on the transformational changes that have resulted from our training programs.
"Amy Kines and Ready Aim Teach provide a variety of professional learning opportunities that are specifically tailored to the needs of teachers and staff with ongoing growth and learning in mind."
— Mary Decker
Curriculum and Professional Learning Supervisor Franklin Special School District, TN
Some of our most popular – and successful – training programs include:
Proactive Classroom Management
Which provides strategies on the use of space and room arrangement to engage students and maintain focus. We also cover the effectiveness of established routines and how to implement them. The ultimate goal is to maximize student engagement and meaningful instructional while decreasing time spent on reactive management.
Differentiation Day to Day
Helps teachers discover proven methods to reach the wide variety of learners in a classroom, assess their abilities, and help students process information in ways that stick. We model best practices so teachers can "sample" the different approaches and learn hands-on how to apply them to their classrooms.
How do we do that?
Through hands-on, engaging workshops or private coaching.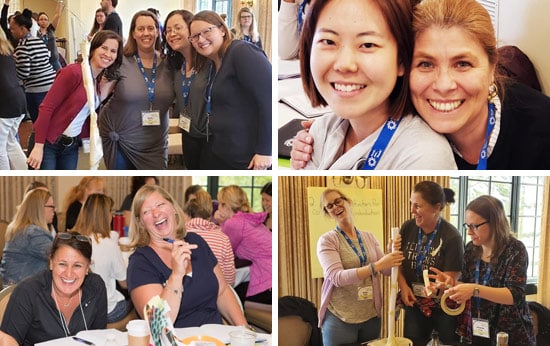 Our workshops are active, and teachers are continually doing something throughout the training to solidify their new knowledge. Just like our students, we know teachers have to practice the lessons we share and engage in the learning if we expect teachers to feel comfortable taking these methods into their classrooms.
Because of the comfort level teachers establish during the workshops, or through the private coaching, participants feel ready to implement the strategies and concepts with their students right away.
Meaning you get to see a direct return on investment for the training or coaching you gave to your teachers. Actionable results. That is what Ready Aim Teach is all about.
"98% of teachers are likely to implement new practices in their classrooms after taking a training workshop from Ready Aim Teach. Don't you want to give your teachers new strategies that improve student engagement, focus and success?"
Montgomery County Public Schools
This course was a breath of fresh air.
-
Montgomery County Public Schools
Eagle County School District
Loved Amy and her wisdom, the classroom management, and community building.
We learned so many new strategies and different ways to use old strategies.
-
Eagle County School District
New Teacher Training
Integrating new teachers into your school comes with a lot of possibility with the inclusion of fresh inspiration and new perspectives, but it can also lead to some challenges as new teachers potentially experience frustration and feeling overwhelmed adjusting to their new career. Reach Aim Teach can help avoid lingering challenges by providing new teachers with insights, best practices, and tips that make their days easier through effective routines and proven strategies. New teachers rave at the insights they gain, commenting that they were never taught these concepts in college. It is like acquiring years-worth of experience without having to wait years to have those breakthroughs.
Some school systems that have utilized our new teacher training include:
Marion County Schools in West Virginia
Wood County Schools in West Virginia
Camden County Technical Schools in New Jersey
Eagle County School District in Colorado
Coaching
Do you have that teacher - full of potential and great possibility - who is overwhelmed or struggling to connect with students? Or another who has seemingly lost their passion and it's starting to reflect in their efforts? These are challenging situations, but we know addressing them is in the best interest of the students and your school. We can help you avoid teacher burnout and increased turnover through our private coaching sessions.
We begin with a conversation about the perceived issue or concern and then engage the teacher with a classroom observation session. The observation findings are discussed as a team and a plan of action for improvement and enhancement is addressed with the teacher.We do this in a way that brings the best out of the teacher's abilities, rather than as an attack against his or her current actions. We break down the best practices specific to the teacher's needs and help the teacher implement these practices towards positive change.
The process is a win-win for everyone, and we have seen tremendous results with the schools who have employed our private coaching services.
Some of the schools who have benefited from our coaching and consulting services include:
Powhatan Elementary School, Baltimore County Public Schools, Maryland
Charles E Smith Jewish Day School, Rockville, Maryland
St. Patrick's School, Rockville, Maryland
Candlewood Elementary School, Montgomery County Public Schools, Rockville, Maryland
Mother of God School, Gaithersburg, Maryland
Greenville Middle High School, Greenville, Georgia
Saco Middle School, Saco, Maine
Harriet Tubman Charter School, Bronx, New York
St. Joseph High School, Hammonton, New Jersey
Wildwood Catholic High School, North Wildwood, New Jersey
Hammonton School District, Hammonton, New Jersey
St. Anthony School, Falls Church, Virginia
Trinity Christian School, Fairfax, Virginia
Holy Family Catholic School, Dale City, Virginia
St. Ambrose School, Falls Church, Virginia
St. Francis of Assisi School, Woodbridge, Virginia
St. Rita's Catholic School, Arlington, Virginia